Mechanical SSW158 Black with T-Band OD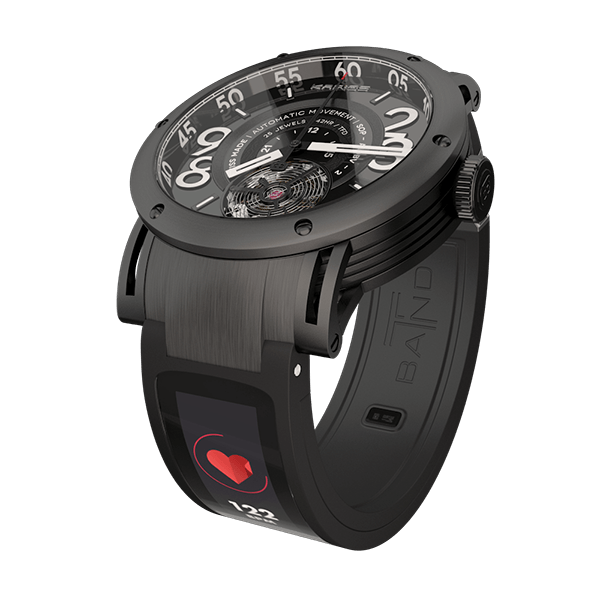 Mechanical SSW158 Black with T-band OD
$2,548
Color :
Black
Display :
PMOLED Display
Get 1 x USB charger and your choice of adapter.
Expected Delivery Date: Spring of 2017
The remaining quantity : 0 Unit
How to take wrist measurement?
Description
T-BAND OD (OLED Display) model is designed for the ultimate techie who also loves his/her analog wristwatch. The unit is comprised of a curved PMOLED display (active viewing area 11mmx25m with 170dpi resolution), touch sensor, and hardened mineral glass with special anti-scratch coating. The display is adequately bright with equally adequate resolution. Kairos has opted to go with these specs in order to maximize battery life. The unit is powered by ARM® Cortex-M4 processor with Dual mode Bluetooth Classic and BLE. This setup allows the T-band to be compatible with a wide range of smartphone models (from old to new). The OD model is also equipped with an on board Mic for Speech to Text capabilities (requires 3rd party app support).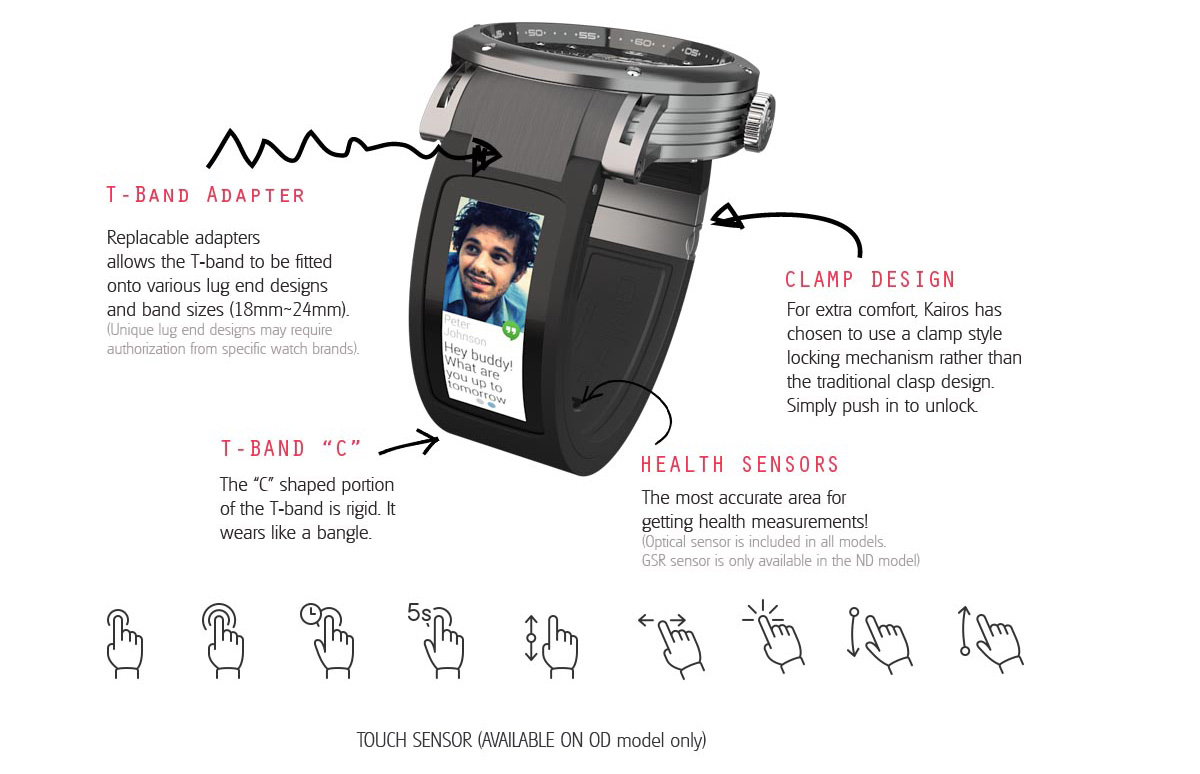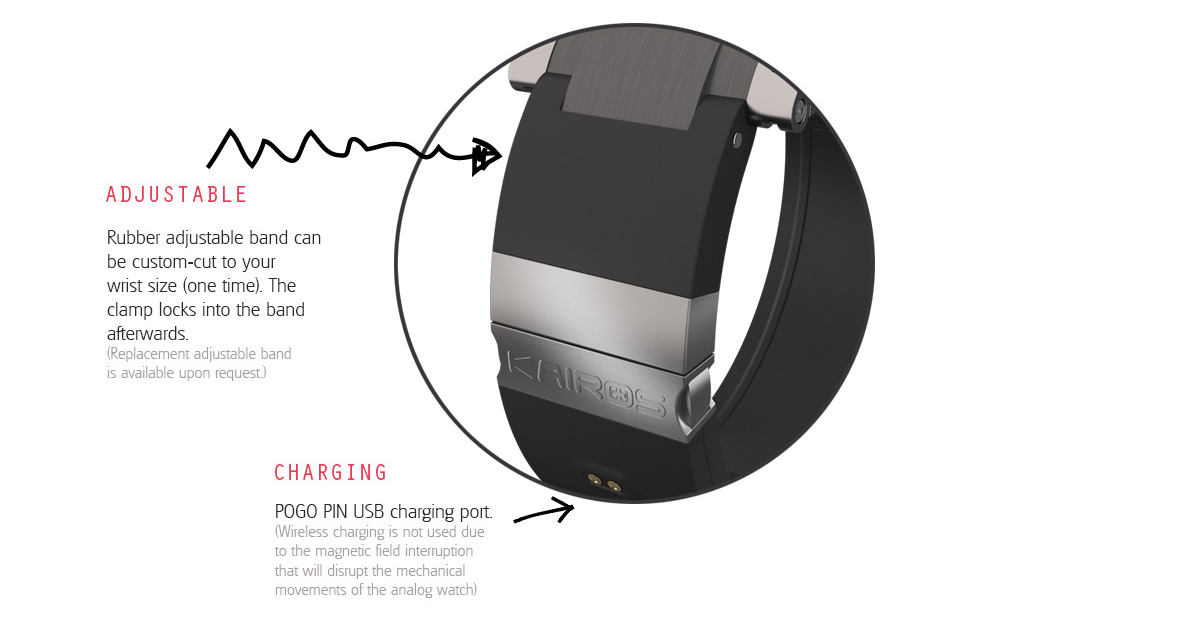 Features
NOTIFICATION

Text messages, E-mails, Incoming calls … Whatever it is, Kairos T-band will keep you informed.

Push-alerts

Notifications from your favorite apps can be pushed out to Kairos T-band. Facebook, Twitter, Whatsapp, Wechat, Kakao and much more can be integrated to work with Kairos T-band.

Remote Control

You can use Kairos T-band as your remote control for your smart phone or tablet PC. Take camera shots from far away. Control your music while walking. Send pre-set text messages while driving. Remote start, control, and monitor your vehicle (requires additional modules to be installed in your vehicle). It's all in your control.

INTERCHANGEABLE

Kairos T-band is designed to work with any analog watch. Simply change out the band on your regular analog watch with the T-band to transform it into a smart watch. Various adapters will be available to fit different size and shape lug ends.

FITNESS/ HEALTH

Keep up to date with your activity. Find out how many steps you've made, how much calories you've burned and how long your activities were. Fitness and Sleep acitivities will be powered by Misfit. Furthermore, with the added Optical sensor and GSR sensor (only for T-band ND), you can also track all of your health data as well. T-band will be able to push your data to third party apps such as Google Fit, Apple Healthkit and Microsoft Health.

Multi-language support

English, French, Spanish, German, Russian, Arabic, Simplified Chinese, Korean and Japanese language support will be available on a rolling basis (via firmware updates). More languages will be supported over time. Please note, T-band HD/ND only supports English alphabets and numbers.
Specifications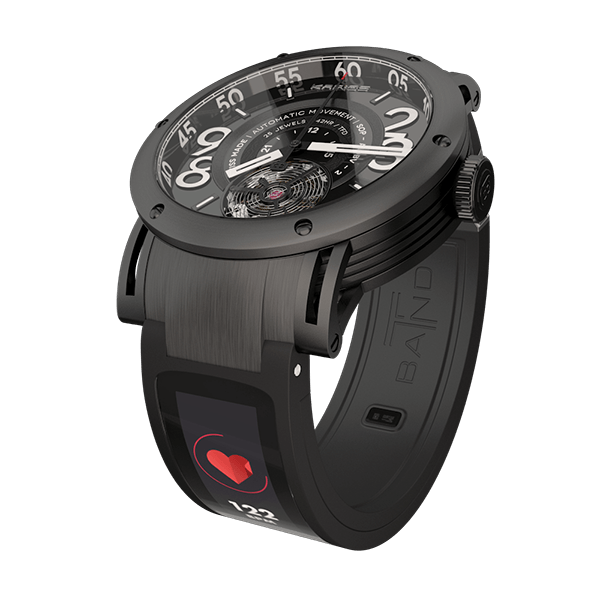 Mechanical watch Details
Soprod A10BV-2 Swiss Automatic movement
Movement
42 hour power reserve
Movement power
Automatic Movement
Function
316L Stainless steel
Case
Crystal Sapphire Glass
Glass
T-Band Details
Dual mode Bluetooth Classic and Bluetooth v4.0 BLE
Connection
PMOLED curved
RGB Color Display
Display
IOS + Android + Windows Phone OS
Compatible
9-axis, gyroscope, accelerometer, compass, optical(heart rate)
Sensors
200mAh (2-3 days)
Battery
USB cable with magnetic connector
Charging
Kairos OS
Operating System
IP67 waterproof
Waterproof